Founded by engineers
Our Story
---
We started at the deepest point of the recession, the end of 2009, with just four software engineers. Today we are the fastest growing agile product development company in the region.
Our clients include unicorn startups like Transferwise, Monese, and TUNE. We also work with all major Nordic telecom operators, the biggest banks in the Baltic region and with different European mobility disruptors.
BEGINNINGS
Mooncascade was founded by four software engineers. Two came from Skype, and we all met at a startup called DailyPerfect in late 2007/early 2008. Three of us had experienced what it meant to work for successful, high-tech growth machines, the excitement and the thrill of challenges, and the kinds of perks this kind of job would offer. We could not wait to see how our hopes would come true and our new venture would rocket into the sky.
While our startup gathered speed on the runway to properly take off, the world met the Great Recession. By the end of 2009 it was clear that our company would crash and burn. There was nothing dramatic about it. We all knew the risks for working in a VC-funded startup. The whole world was depressed and we weren't able to fundraise the next round to survive. We were not the only team whose dreams were crushed under the global economic collapse.
It was at the deepest point of the recession, November 2009, when we figured out that we would not start the next startup, and we wouldn't get a cosy corporate job, either. We would start our own software engineering consultancy, Mooncascade.
MOONCASCADE – BIRTH
We knew how to build software products — we were a highly skilled full-stack engineering team — a well-oiled machine to build any system as fast as hell. Who wouldn't want to hire us to build their shiny new product? So we started.
Our first office was in my grandmother's flat. It was cosy, my grandmother made lunch every day, and we did everything else by ourselves. We hunted for clients, and designed, programmed and managed product development. It was fun but the business did not take off. By the end of the first year by November 2010 we had earned close to nothing. Our situation was gloomy, we had all burned through our personal savings, our home loans needed paying every month and two of our team had children just a couple months before.
We had a pre-Christmas meeting where the mood was quite dark — we could smell the inevitable. We understood that we either had to change something drastically or we would lose our great team and close down Mooncascade. We decided on the following things: we had to double our prices, focus on a high-demand technical vertical (we chose mobile), and make some noise with a marketing stunt named Sprint48.
The idea of Sprint48 was simple — we would develop any product concept into a functional prototype in 48 hours. We were sure that we could deliver but we weren't actually expecting to sell this service — we just wanted to be noticed and get into media.
We did get quite a bit of media coverage and we were able to sell three sprints, and by the fourth we said — "Could we take it a bit more slowly instead for the next week or two?" Sprint48 was a very exhausting way to work.
This stunt helped us over a rough patch. We started to grow and we hired our first employee in April 2011. We ended the second year with twice as big a team and we had increased our revenues by more than five-fold. This kind of growth has been continuing ever since.
By today we have grown with no external investments from a team of four engineers to a team of nearly 100 people. We are a product development consultancy that develops new software products and we are constantly looking for ways to be better partners for our customers in every possible aspect of product development: concept, validation, design, engineering and quality assurance. We fix problems hands-on and we help our customers to improve.
WHAT IS IMPORTANT TO US
Since day one we have wanted to build a company where we would like to work ourselves. This applies to each of our team members — what kind of company would you like to work in?
We want our work to be interesting and challenging — our work has to matter, and have a purpose and impact on the real world. Because of that we try to choose projects and clients with business models that signal market change or pose a technical challenge to crack — be it FinTech's like TransferWise and Monese shaking up the financial world, Tune bringing new tools into growth marketing, or corporations like Merck Group curing cancer.
We want to work with the best people we can imagine. We want our colleagues be great human beings you can learn from and you would like to spend time with every day. None of us wants to work with somebody who makes us feel inferior or bad on a daily basis. We welcome people to our team who are willing to learn and develop themselves — through a tough technical hiring filter we assure that we are able to learn from the best of our teammates.
The same applies to our clients — we want to team up with partners who are great to work with, and have mutual respect and common goals. In return we offer more than just coding power — we offer our absolute best efforts and dedicated minds providing the highest quality possible. We challenge ourselves to understand the business and operational context and we do not follow any specs blindly. We think and ask questions (sometimes uncomfortable ones), we are hands-on, we find and fix problems, and do not create new ones.
MOONCASCADE –  THE EVOLUTIONS OF AN ORGANISM
Following these values has been good for our company. This kind of ethical code is contagious throughout the whole organisation, meaning that Mooncascade as a company is constantly self-improving.
We tend to respond quickly and flexibly both to internal and external stimuli. We want to be able to change the organisation to confront any internal issues and use the opportunities presented to us to their fullest. We practice two-level thinking. While being driven by a greater vision and long-term strategic goals, we are at the same time very analytical, and we have the very practical thinking typical of an engineer — as we focus on immediate problems and simple tactics to get us from point A to point B.
We started as a full-on engineering team. Following our customers' needs we quickly saw that Mooncascade had to be able to offer product design, quality assurance and dev-ops capabilities. Moving even further, we have understood that we have to be not only a product engineering company, but also a product development consultancy, ready to advise our clients outside of the product development discipline. Thus, today we engage in everything related to product development, and take it a step further.
For example we help our clients with concept and validation of the ideas (Design Sprint, MVP workshop). This helps them cut costs and minimise the risk of unnecessary investments before even getting to product engineering.
We also offer business and management consulting by advising our clients on the strategic level, training/building internal teams, revising processes and creating new ones where necessary. We often form a joint team to facilitate and get things done.
We are constantly developing new capabilities (to better serve our clients) and we are going to continue with it — be it our Data Science team or any of the new services, because the end goal is to build products for our clients that matter, and be more than our clients could imagine.
OUR WORK MUST SPEAK FOR ITSELF
Otherwise it's not good enough. And our work does speak for itself and stands out since we take on projects with higher-than-average complexity. Quite often our clients run their entire businesses on products we have built. We think that this is why great people and partners find us.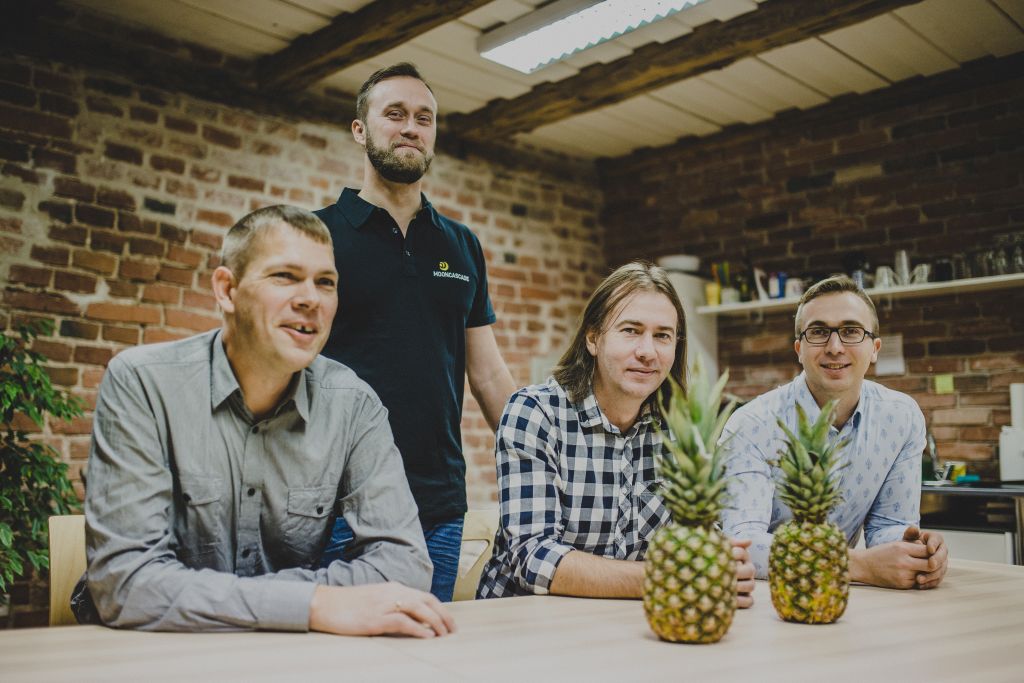 ---