Analyze that! The synergy between user stories and analysis.
---
Your user stories need analysis to truly shine and have an impact. Here's why.
User stories are a tricky business. While they're one of the more compelling elements of product development, the truth is that – without relevant context – their contribution to the process itself can be negligible.
The good news? They have the potential to become absolutely essential for product managers, developers and UX designers alike… if paired with the right analysis, that is!
But what is the right analysis? Which methodologies should we consider when driving a project, and which should we disregard – particularly in an Agile environment? To answer this, let's first take a step back and make sure our definitions are in sync (nothing like being on the same page when it comes to words, after all!).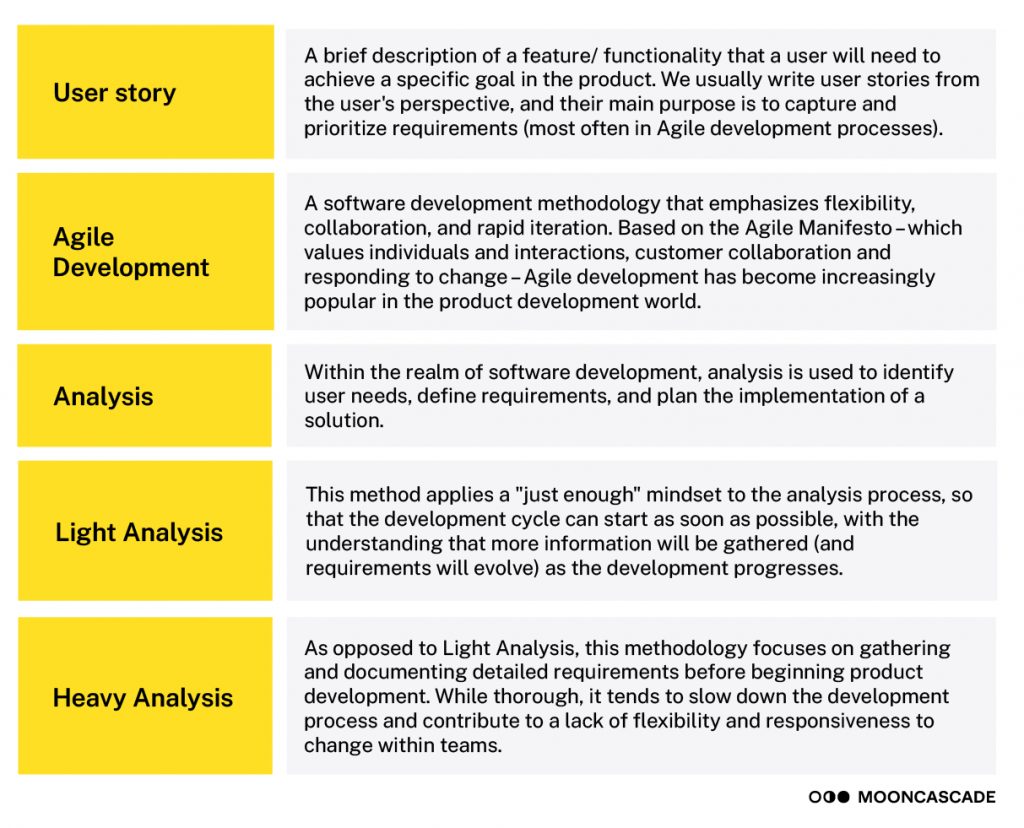 From User Stories to Real Product Insight

One takeaway from these definitions has to be that user stories are key to any Agile product development process worth its salt.
But why is that, exactly?
While critics of the approach have sometimes complained that user stories are just a glorified way of breaking up projects into (even) smaller steps, in reality, that's exactly where their true value lies: reframing certain units of the projects into a "story" (e.g. "Sam wants to see all his invoices in the app, so he can download them when he needs to") makes it easy for everyone on the product team to understand the issue, as well as what needs to be built to resolve it.
From a resource management angle, we can say that user stories open up a more collaborative process within the development teams, simply because they add context to the technicality of the topic.
But here's the problem:
This context, while essential, is pretty limited. A one-line story won't ever be enough to fully define the requirements for an entire project, after all! To really see the full picture, it's important to pair user stories with analysis – and not just any analysis.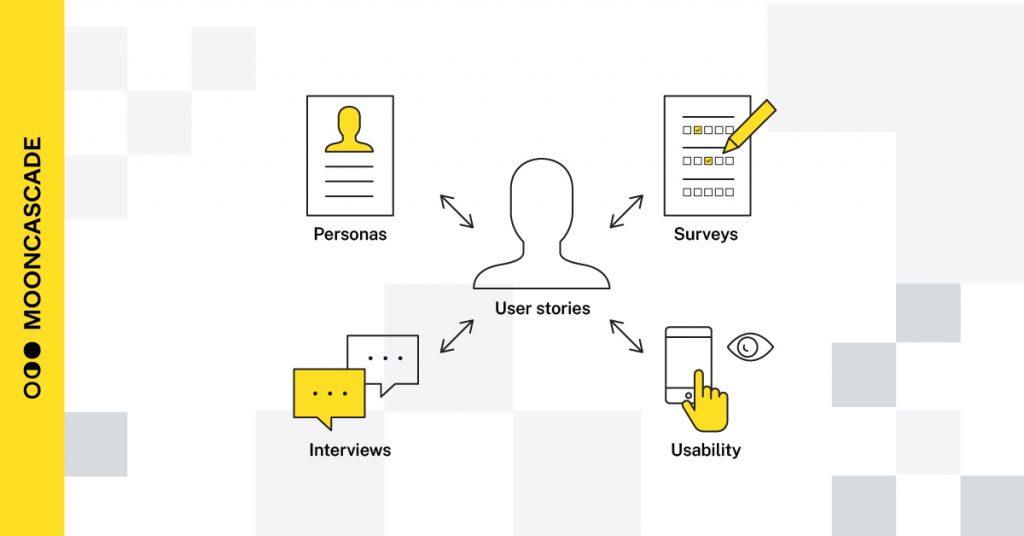 Here at Mooncascade, we have used many different methods through the years but, I and many with me prefer user research to supplement our user stories, since it's proven to be one of our most effective analytical methods during our own product development processes.
Of course, this can mean several things:
Personas, where we define who we're building the app for (and then use these personas when writing the user stories
Interviews, where we ask real (or potential) users about their opinions and experiences relating to a user story within the product development process
Surveys, where we use a more quantitative approach to answer the same questions
Usability testing, where we observe the participants trying to achieve the goal of the user story itself
These types of analysis all serve the same agenda: that our user stories accurately reflect the requirements of the project, as well as identifying any potential pain points (or areas for improvement) within the product.
In other words, it anchors our product development to our number one target audience: our users, instead of well-meaning (but unfounded) hypotheses from the development teams.
"But then why not add even more user research into the mix?" – one could argue. "All data is good data. Why not gather as much as possible?"
It's a fair point. You never know if your greatest user insight is just around the corner. That said, utilizing a heavy analysis approach to product development – like creating detailed functional specifications, data flow diagrams and process flow charts, to name a few – while sometimes useful, has, historically, been counterproductive. Since these methods go heavy on both time and resources, they usually add unnecessary complexity to the development process.
(Not to mention that, as product development progresses, the insights we get from any kind of analysis quickly become outdated – a painfully short shelf life for data that took so much time to collect!)
User Stories + Right Analysis = Best Value
So here's to keeping things simple. Or more accurately, as simple as possible when it comes to the magical world of product development!
In such a finely-tuned process with so many moving parts, getting the most value possible from a powerful tool like user stories can easily have a ripple effect on the entire project, cutting back on unnecessary tasks and highlighting the best roads to take.
Based on our own first-hand experience, this has definitely proven to be true. 
And now we all know how to do just that.
Want to learn more about this topic?
We got you! This short reading list has the most relevant materials on Agile, user stories, and analysis. Happy reading!
---