From AI to Greentech: Top Tech Trends of 2023
---
We love technology. Not because we have to (although, if you're a design and software development agency like us, strong feelings about technology are definitely an advantage!), but because it's an ever-changing, dynamic industry, coming up with exciting new tools and surprises year after year.
On which note, we're about to explore a handful of tech trends we believe will shape and define the technological landscape in 2023! Get ready to find out the answers to…
…what "the ChatGPT of 2023" will be? 
…if AI is still the biggest buzzword out there?
…whether cryptocurrencies are over, or we should hold onto our NFTs for dear life?
Let's dive in!
1. AI for Everyone!
We can still see 2022 in our rear-view mirrors, so the evolution of AI (or artificial intelligence) is certainly top-of-mind. AI was absolutely everywhere last year, and so far, 2023 looks to be no different. We think AI-powered solutions like DALL-E or ChatGPT will be used more and more for different real-life tasks: from personalizing sales and marketing materials, to fraud prevention, recommendation systems, or even AI assistants!
2. ChatGPT <3 Developers
Did somebody say ChatGPT? Although this uber-chatbot already made a huge splash towards the end of 2022, many applications of its natural language processing technology are still being explored. Our favorite? Coding (of course). Developers around the world have already started using ChatGPT to help them debug, write new code, or even extract machine-readable data from text – and it's only January! Which is why we believe that this particular AI tool is just getting started.
3. Metaverse Expansion
It's more than Mark Zuckerberg's private universe by now: the Metaverse (a computer-generated world where users interact with each other in real-time) combines AR and VR with several other technologies, creating engaging experiences for all of its users. We fully expect 2023 to be the year where it hits critical mass, gaining popularity and becoming more connected to the real world. What does this mean? More realistic (and advanced) AR/VR games for one thing, but even more importantly, the next steps in virtual/online therapy, training, events and education.
4. Crypto Comeback
2022 wasn't a particularly good year for cryptocurrency, NFT and blockchain enthusiasts (yes, we're putting it lightly). But here's some good news: after "the big cleanse" that happened last year, we expect 2023 to usher in a new wave of Web3, bringing much more practical uses for NFTs and stronger regulations for cryptocurrencies with it. The result: NFTs, blockchain and crypto will become parts of our daily lives – and not just as a punchline.
5. Greentech FTW
We all know global warming is one of the biggest challenges humanity is facing right now. Unsurprisingly, different technological solutions aiming to help solve this challenge have sprung up around the world. By the end of 2022, more than 25% of all VC funding went towards climate technology (with a focus on technologies that have the most potential to reduce emissions). From smart home advances to an ever-widening range of electric vehicles, 2023 looks to be yet another banner year for greentech.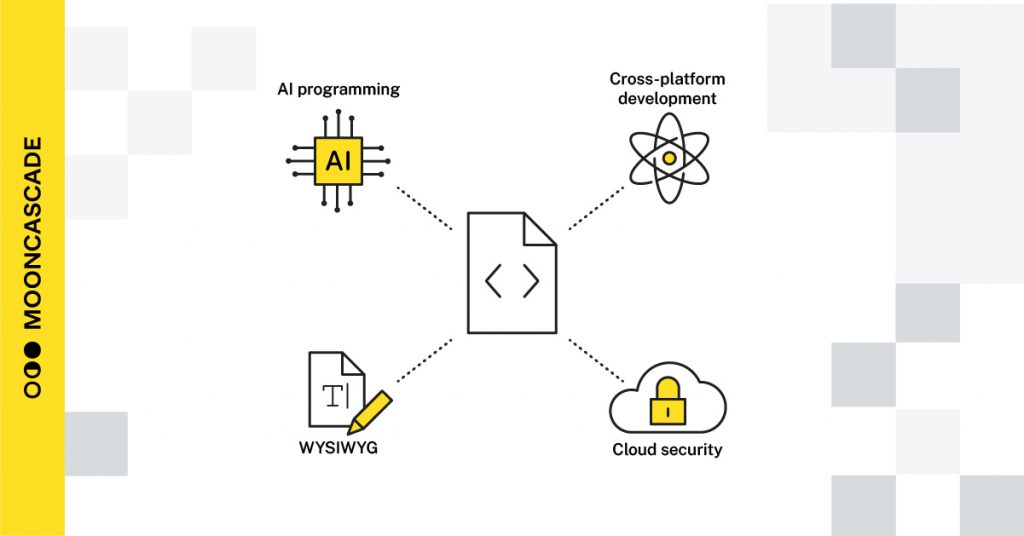 "What about the coding world?!"
As a special shout-out to everyone more deeply involved with programming (including our dedicated software developers), we've included some tech trends that are specific to programming.
Here are some quick-fire thoughts on what the coding world will look like in 2023:
Like we said before, using AI to make programming more efficient (all the way to AI-driven development, perhaps!) will be key this year.
Low-code and no-code tools will also become better (and more popular), which will significantly speed up the creation of websites, MVPs, and prototypes. 
Cross-platform development is on the rise. Flutter and React Native are both becoming more mature and popular platforms, and are on track to simplify and speed up the creation of mobile apps in 2023. 
Last but not least, cloud security (i.e. resilience against timely threats like data loss, cyberattacks, etc.) is also getting more attention from developers and companies alike.  
What do you think of our predictions? Anything you'd like to add? If we got your interest piqued and you want your company to stay ahead of the technological curve, feel free to drop us a line.
---