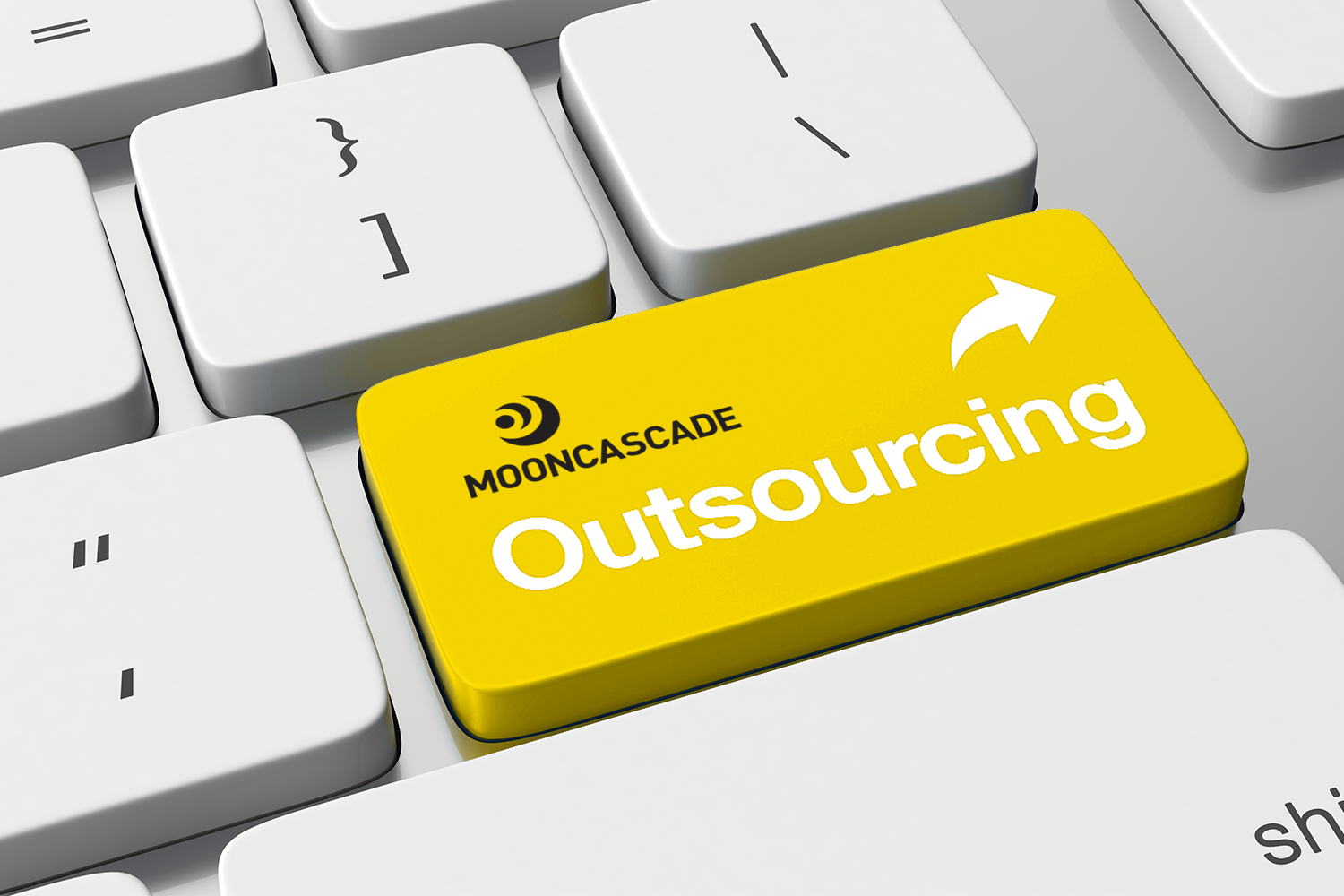 Whether you're an up-and-coming startup or a well-established company, you've probably had to think about outsourcing web development before. Though working with a development partner can make sense in many different situations, here are a few of the most common reasons for outsourcing web development:
You want access to expertise you can't get in-house
You want to bridge the hiring gap quickly and without breaking the bank
You want to get your product to market as fast as possible
Outsourcing web development successfully can have a serious positive impact on your business. It can help you build great products in a short time and at relatively low cost. However, it can also transform the way your team approaches future projects once the partnership comes to an end. By working closely with an experienced partner, you can learn how to optimize your work processes, improve your product management, and maximize your results in powerful new ways.
Here at Mooncascade, we've been helping teams build software products for over ten years. If we've learned anything from our experience, it's that outsourcing web development successfully requires that the outsourcer understands the risks, as well as lots of planning ahead, communicating, and close cooperation between partners. Let's have a look at why these things matter and see how they can help your next web development project.
1. Know your risks.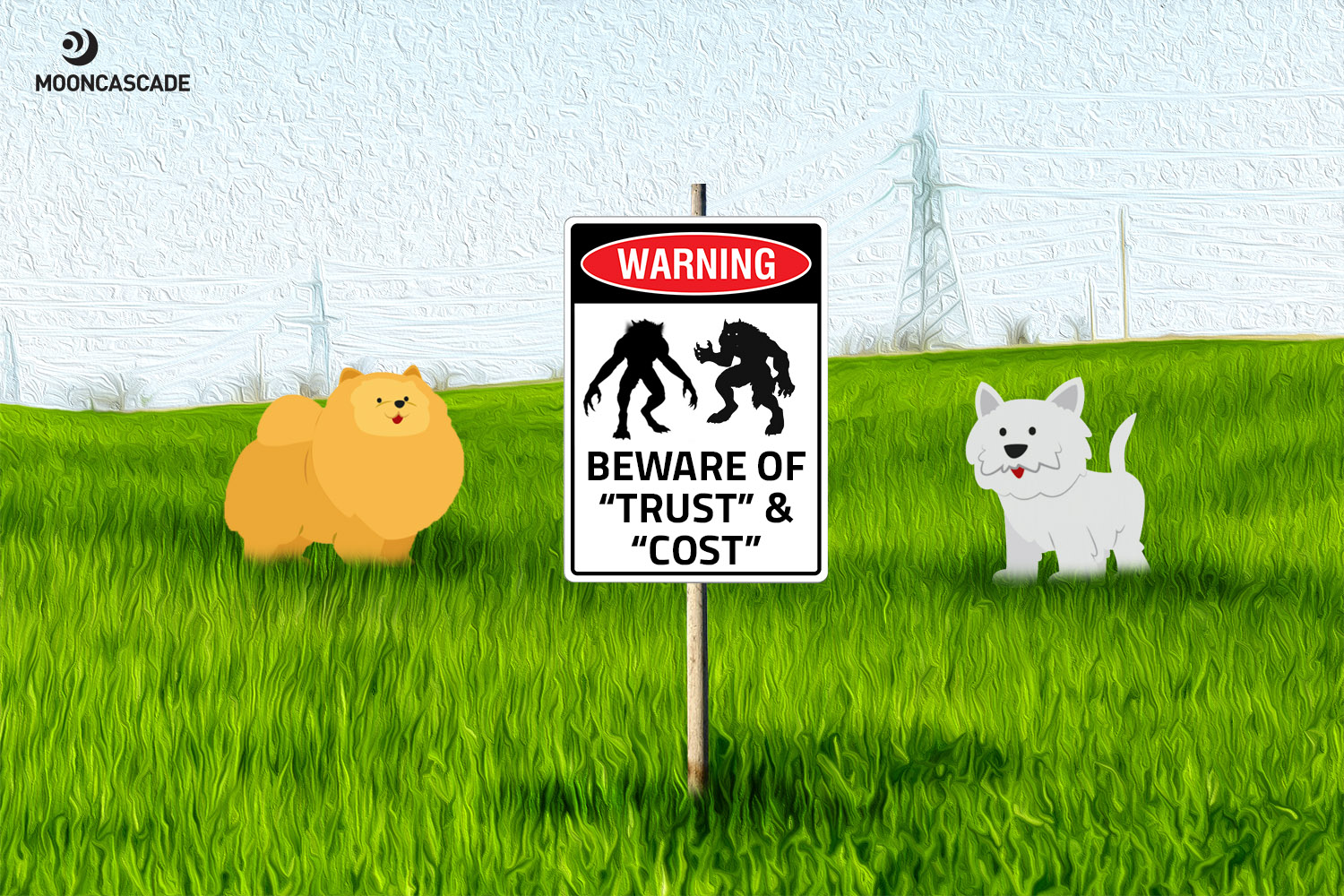 One of the biggest risks that comes with outsourcing web development is cost. When compared to something like a code factory in India, outsourcing to a software development company in Estonia isn't a cheap solution. But it is a great way to find a partner whose quality of work and ability to deliver you can trust. And although the cost of outsourcing development may seem high at first—especially if you're working with an in-house team—it's important to remember the bigger picture here.
Say you're outsourcing web development because you don't have anyone fluent in Javascript working at your company. Hiring developers is a lengthy, expensive, and uncertain process. Depending on where you are, finding the right fit can take several months. The long-term cost of having your product sit on the shelf while you search—not to mention the costs of finding and committing to a development team—will always be higher than the short-term cost of outsourcing web development, of biting the bullet and getting the job done well – and right away – by a professional partner.
Another common issue companies worry about when outsourcing is trust. Will the quality of your partner's work be up to your standards? Will they use security best practices? How can you have oversight over the project if any of the work is done remotely?
To answer questions like these, it's important to choose your partner wisely. Spend time early on checking their references, learning about their experience, and comparing candidates to see which one's right for you. If you'd like to learn more about this process, our very own Hanna-Mari Kirs has put together some great tips for choosing a development partner.
2. Planning is key.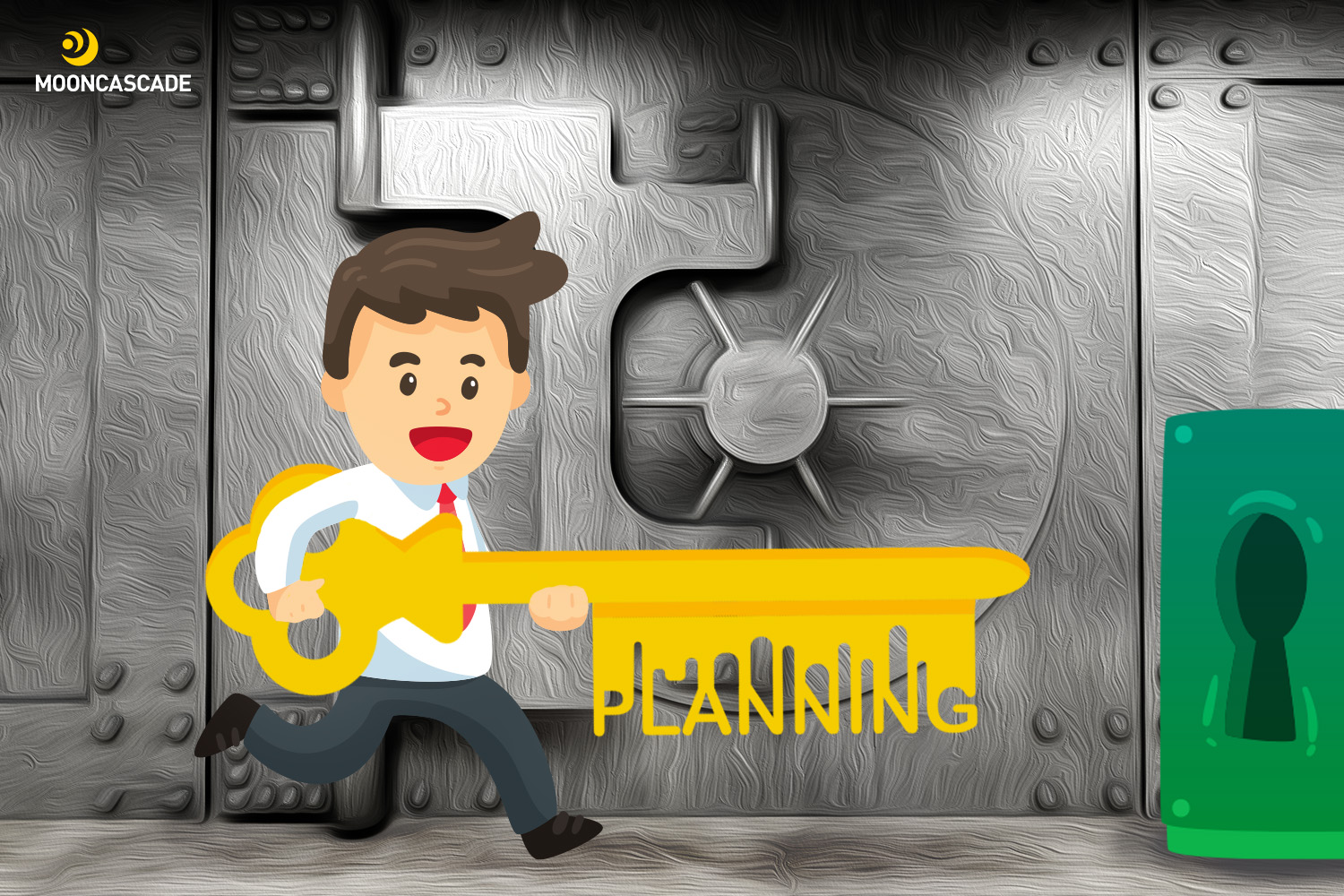 Once you've determined your risks and found the right partner, it's important to plan ahead. Like any collaboration, outsourcing web development works best with clear goals, budgets, and deadlines in place. At Mooncascade, we like to establish our clients' needs early on and include them in our contracts. This is also a good time to prioritize features, think about scaling, and generate estimates for each stage of the development process.
Keep in mind that while development and design are often outsourced to different providers, development itself can also be split into multiple projects. For example, we've worked on products where we handled the initial desktop development and another partner took care of mobile views. Here too, communication and planning are key for success. Everyone should be able to communicate directly, without intermediaries. Whether you have four developers from one company or two developers from two companies collaborating, the goal should still be the same: working as one to create the best product possible.
Finally, when creating your budget, don't forget to ask your partner about less obvious, but equally important costs – things like QA testing, security, and onboarding. These all take time and money to accomplish and are essential parts of any successful web development project. If you're working with an experienced development company, they'll help you figure all of this out in the planning stage, rather than surprise you with it after things have gotten started.
3. Communication and adaptability matter.
Just as important as planning when outsourcing web development, is communication. Though you want to think ahead as much as possible, the reality of building a web product is that things change and unexpected issues always come up. That's why maintaining a transparent approach to communication throughout the project is essential.
Clients will expect development updates and developers will expect business updates. Whenever we work with a partner, we use a variety of tools to make this happen. Demo meetings allow us to show clients what we've built so far and make sure we're on the right track. Retrospective meetings help us review our processes and communication and see if anything needs to be improved. We also use Jira boards, standup meetings, and code reviews to manage and report on progress along the way. Not only do these kinds of practices allow both sides to get regular feedback on how the project is advancing, they help catch and fix issues early, too.
Another key part of communication is adaptability. When things aren't working well with a certain approach or configuration, remember that change is always an option. If you're outsourcing web development to a quality partner, it's highly likely that they'll provide you with a project manager to facilitate this. Say a client and part of the development team aren't getting along. One thing we'll try in a case like this is to have our project manager switch out one or more developers for different personnel. Sometimes a fresh face can make all the difference between a poor group dynamic and a productive one.
4. Close partnerships build great products.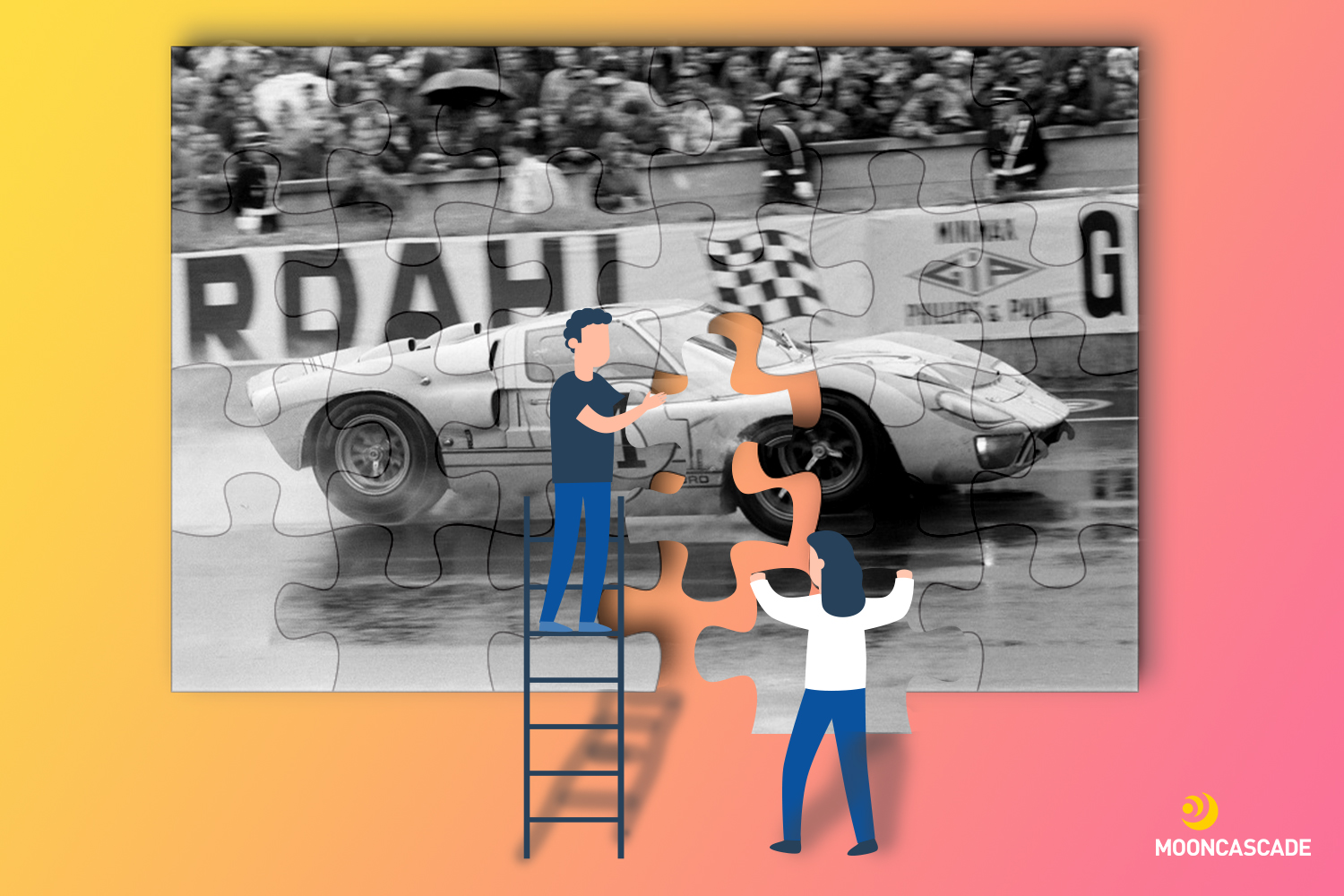 One final point to keep in mind is that outsourcing web development successfully calls for a partnership, not just any old business transaction. Ideally, both the development team and the client should think, plan, and work together. If you're partnering with freelancers, for example, try bringing them into the office. This can help build trust, maintain good communication, and create unexpected learning benefits on both sides.
Something we always do at Mooncascade is offer our clients a project manager and tester in addition to developers. Having a project manager on hand allows our developers to focus 100% on development and helps our team deliver higher quality products more quickly. Project managers also generate plenty of added value by handling administrative tasks, making sure developers have a consistent flow of work ahead of them. This takes some of the workload away from the client, and generally helps keep the collaboration running smoothly. Testers add to this value by ensuring that we develop quality code and the product we deliver will actually work.
The goal here isn't to bill people for more time but to pool our resources and help them deliver the best possible product. That's also why we include the clients we work with in our social events, whenever possible. By building strong relationships with our partners both in and out of the office, we can be sure to see improved results in our teamwork as development moves forward.
Outsourcing web development: fast results and learning that lasts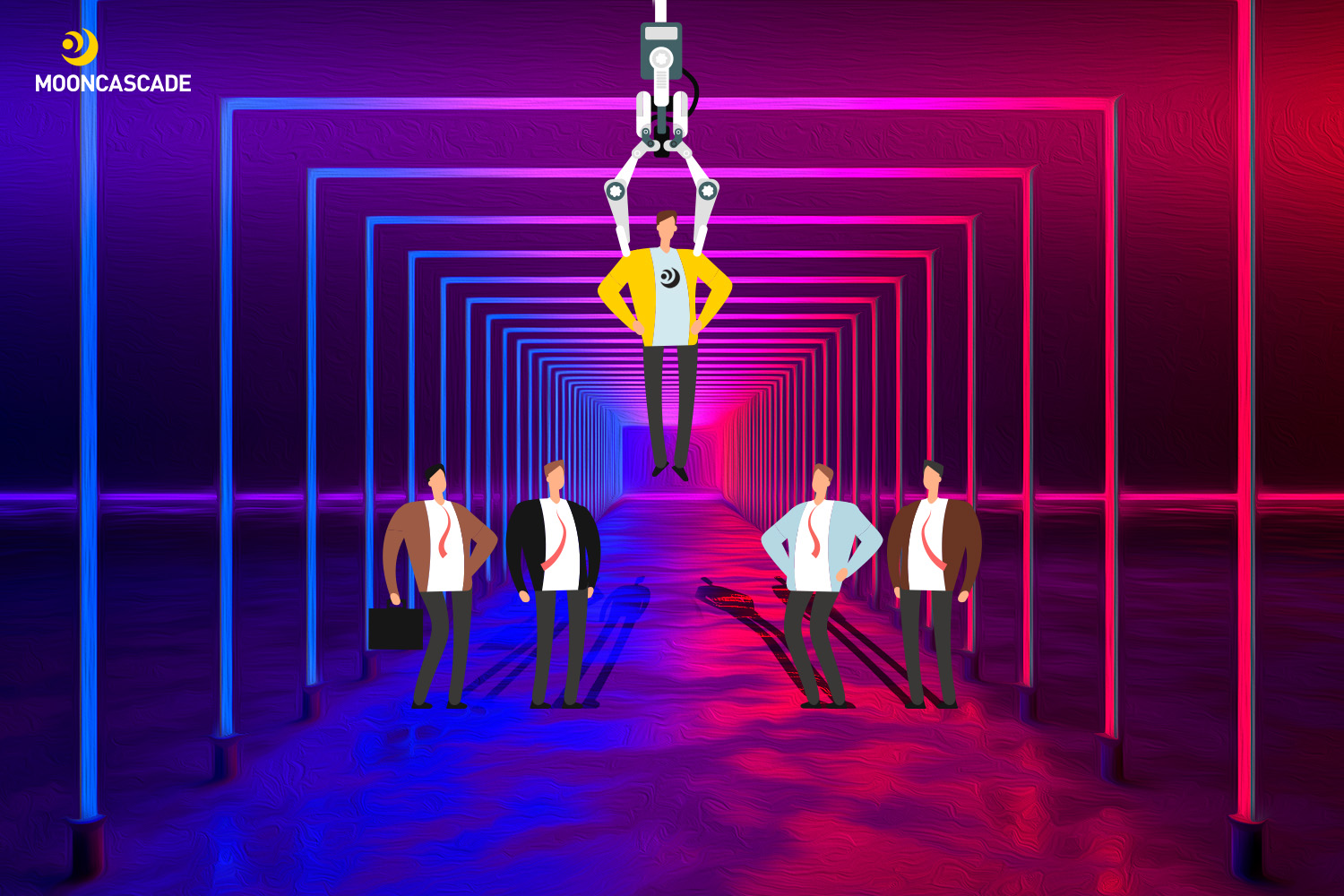 Done right, outsourcing web development can give you a serious edge over the competition. Though it may seem costly at first glance, working with an experienced partner can be a great way to get your product to market quickly and at a fraction of the cost of doing it yourself. It can also help your team build its knowledge base and improve its operational processes by learning from experts, all while broadening their horizons to new approaches.
The key to outsourcing web development projects successfully is choosing a good partner. In today's fast-paced software development market, you need someone who has the knowledge to build what you want and the agility to adapt to your needs. Successful products are made with a good eye, a good ear, and a good skill set. So why settle for anything less? Get in touch with Mooncascade today to learn more about how we can help.
Thinking about outsourcing?
If you'd like to ask for advice, our Business Development team would be glad to help guide you and make outsourcing web development easy. Don't hesitate to get in touch!